If you use Microsoft PowerPoint often, you probably know that since MS PowerPoint 2010, Microsoft has added an additional feature - the "Create a Video" option. This new feature allows us to directly export and save PowerPoint as an MP4 or WMV format video. This means that just like converting PowerPoint 2007 to video or other PPT to video, we can open PPTX files directly on our computer and then use this new feature to convert PPTX file to MP4 without having to download any third-party PPTX to MP4 conversion application.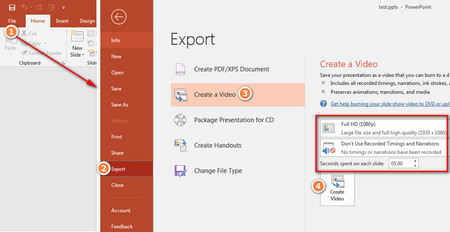 How to Convert PowerPoint to MP4
Step 1: Firstly, import .pptx file into PowerPoint and then move your mouse to and click the "File" menu in the top-left corner.
Step 2: On the drop-down menu panel, click the "Export" tab and then choose the "Create a Video" option.
Step 3: As you can see, here are two setup panels: 2 drop-down menus and slide duration settings. In the first drop-down menu, you can select the output video resolution and file size. In the second, you can choose to use recorded timings and narrations or not. After that, set the time value for seconds spent on each slide and click the "Create Video" button.
Step 4: In the pop-up "Save As" interface, you can customize the name and path of the output video as well as determine the output format as MP4 or WMV.
Finally, click Save to launch the PPTX to MP4 or PPTX to WMV conversion.