To send a video showing what's happening around you, you can choose to directly record your video with its built-in camera and share it through the app. Follow the instructions below to send videos on Snapchat:
Step 1. Open Snapchat on your device and navigate to the Camera screen. Then witch camera to front- or rear-camera to your like in the upper-left corner. (By default, Snapchat opens right to the camera screen, if you're not on that screen, swipe left/right or tap the camera button at the bottom features)
Step 2. Press and hold the center round camera button on the lower screen to start recording a video and release the button to stop the recording. The recorded video will automatically start playing on the editing screen.
Note: The Snapchat video length is restricted to 10 seconds maximum, but you can record a 60-second video that will be automatically divided by the app into six 10-second videos. Just tap and hold the camera button to record, and the camera will stop recording when the time passes 60 seconds.
Step 3. On the editing screen, you can swipe left and right to add filters and go through the tools on the top left row to make other edits to your video.
Step 4. When you finished editing, tap the Send To button at the bottom right corner to send your video to your friends (as many as you want) or add it to your story.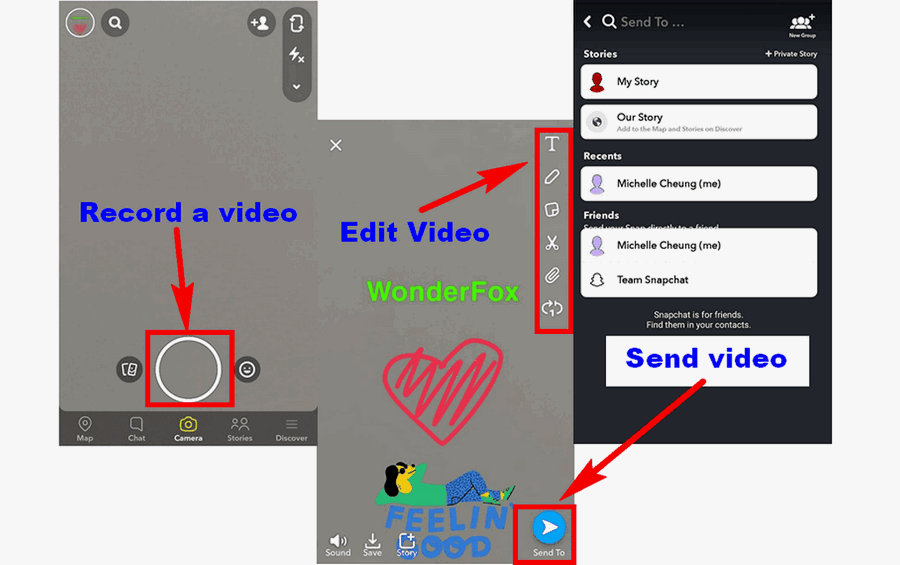 Tips: If you want to send videos to only one friend, you could open your conversational window with that friend and tap the camera button next to the input box to record and send. And the rest process is similar to the above steps.